2018: Top 10 Lists
2018 has been a challenging year with working full-time until starting my full-time PhD in October, with less than usual time for all the reading and cultural consumption I love so much. I didn't come close to last year's reading target record (of 104 books), but I have read over 60 books, seen over 40 shows at the theatre, and been to as many concerts/festivals as I (and my wallet, and my calendar) could justify.
With all that in mind, here's my top 10 lists for theatre, poetry collections, prose (or non-poetry) books, albums, and concerts in 2018. As with last year's lists, each one reflects my own personal, subjective responses. If for some strange reason you're interested in reading my more-fleshed-out thoughts on any of these things, I've posted more in-depth reviews etc. throughout the year on both Instagram and Twitter.
Top 10 Theatre Of 2018
1. Kate Prince – Sylvia (Kate Prince and Priya Parmer) (Old Vic, Sadler's Wells and ZooNation)
2. Lyndsey Turner – Girls & Boys (Dennis Kelly) (Royal Court)
3. Rebecca Humphries – Red/Wolf: A Work in Progress (VAULT Festival)
4. Sally Cookson – A Monster Calls (Patrick Ness and Siobhan Dowd) (Old Vic)
5. Sam Gold – Fun Home (Lisa Kron, Jeanine Tesori and Alison Bechdel) (Young Vic)
6. Amy Draper – Day Of The Living (Darren Clark, Amy Draper and Juliet Gilkes Romero) (RSC, The Other Place)
7. Richard Eyre – My Name Is Lucy Barton (Rona Munro and Elizabeth Strout) (Bridge Theatre)
8. Marianne Elliott – Company (Stephen Sondheim) (Gielgud Theatre)
9. Emma Rice – Wise Children (Emma Rice and Angela Carter) (Old Vic and Wise Children)
10. Annie-B Parson – 17c (Old Vic and Big Dance Theater with Dance Umbrella)

Honourable Mentions:
Pale Sister (Lisa Dwan and Colm Tóibín at Hay Festival, performed reading)
Prom Kween (at Harlow Playhouse, and again in Bristol)
Mouthpiece (Enable Us Project in Sheffield)
***
The Old Vic's production of Sylvia might just be the finest piece of theatre I've ever seen, showcasing the best of music and dance and stagecraft and raw performance, and as a work in progress, I'd be surprised if 2019 didn't yield another run, this time assumedly of the final product. Girls & Boys, the emotional gut-punch performed solely by Carey Mulligan, left me reeling for days afterwards and still I find myself going back to some of the speeches in that 90 minute monologue and being utterly floored by their insightfulness and brutality. Although not the musical work in progress you may expect from the creator of Prom Kween, Red/Wolf shows Rebecca Humphries to be a theatre-maker capable of range and extraordinary sensitivity and depth, a star on the rise and a force for good. Another devastating show on this list comes from the Old Vic's adaptation of A Monster Calls, which had me openly weeping in the theatre, so deeply emotionally invested in Matthew Tennyson's character and the very real grief and drama. Speaking of openly weeping, Fun Home, when it was finished making my face ache from smiling, left me wiping tears from my eyes for hours after the show finished. Day Of The Living, meanwhile, provoked me in a way I wasn't used to, unsettling and triumphant as it was. Laura Linney, like Carey Mulligan, delivered a 90 minute monologue with emotional precision and the most commanding presence in My Name Is Lucy Barton. With Company, Marianne Elliott proves yet again that she is the best ever theatre director, with few other contemporaries in her, ahem, company. And, with two more shows from the Old Vic rounding off this list (for a total of four out of ten, which is kind of staggering?!) Wise Children showed Emma Rice's bold and playful vision in a testament to the magic of the theatre, while 17c sought to address and redress the legacy of the misogynistic Samuel Pepys in the form of dance and experimental theatre.
Honourable mentions for Mouthpiece and Prom Kween, both of which I saw first in 2017 and which made the Top 10 list for me last year, and Pale Sister, a breathtaking and electrifying reimagining of Antigone, performed by Beckettian marvel Lisa Dwan and co-written by Dwan with Colm Tóibín.
Top 10 Poetry Collections of 2018
1. Florence Welch – Useless Magic
2. RJ Arkhipov – Visceral: The Poetry of Blood
3. Kate Tempest – Running Upon The Wires
4. Hannah Sullivan – Three Poems
5. Richard Scott – Soho
6. Sophie Collins – Who Is Mary Sue?
7. Tracy K. Smith – Wade In The Water
8. Andrew McMillan – playtime
9. Liz Berry – The Republic of Motherhood
10. Raymond Antrobus – The Perseverance
/ Danez Smith – Don't Call Us Dead
***
Florence Welch's collection of lyrics and poetry, Useless Magic, contains some of the best contemporary poetry I've read, connecting instantly while remaining stylistically interesting. Visceral: The Poetry of Blood sees Arkhipov's poems, first written in blood, beautifully presented; stunning, emotional, experimental, these poems resonated with me so hugely as a gay man, and I can't think of an emerging poet I'm more invested in than RJ Arkhipov. With her latest collection Running Upon The Wires, Kate Tempest continues to craft her legacy as the most pre-eminent British contemporary performance poet. The triple-bill from Faber Poetry excites and amazes: Hannah Sullivan's Elliot-esque, intricately crafted Three Poems, Richard Scott's celebratory gay musings in Soho, and Sophie Collins' challenging, furiously feminist Who Is Mary Sue?. Tracy K. Smith's Wade In The Water asks urgent questions about race and identity in modern America, while with Andrew McMillan's playtime my penchant for beautiful gay poems manifests itself again. In The Republic of Motherhood, Liz Berry breaks down and builds up all sorts of myths and monuments of motherhood. And, in joint-final place, a call too close to make, The Perseverance and Don't Call Us Dead by Raymond Antrobus and Danez Smith respectively, again address contemporary identity politics; for Antrobus, it is about race and D/deafness and lineage, while Smith's concern is with race and sexuality and body politics.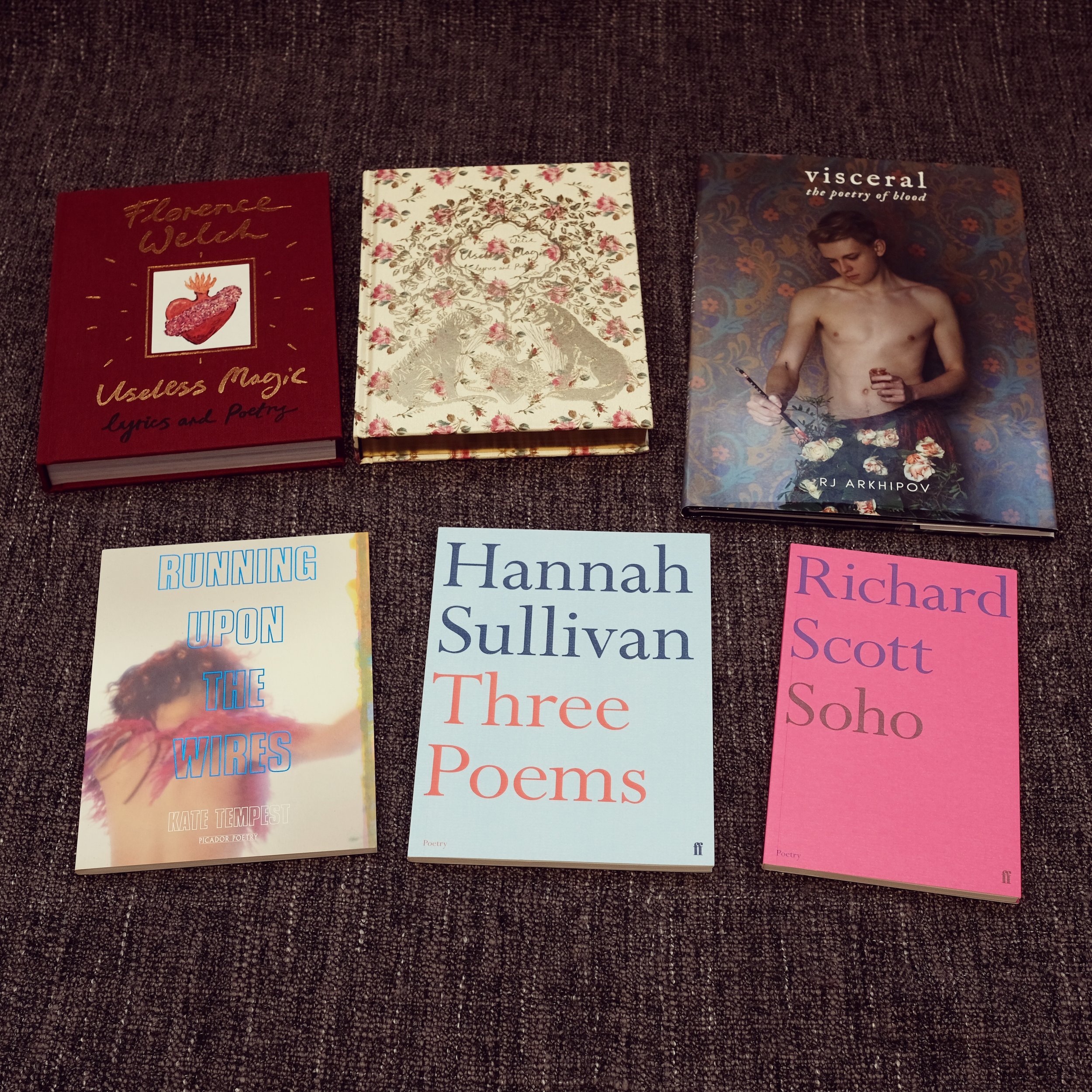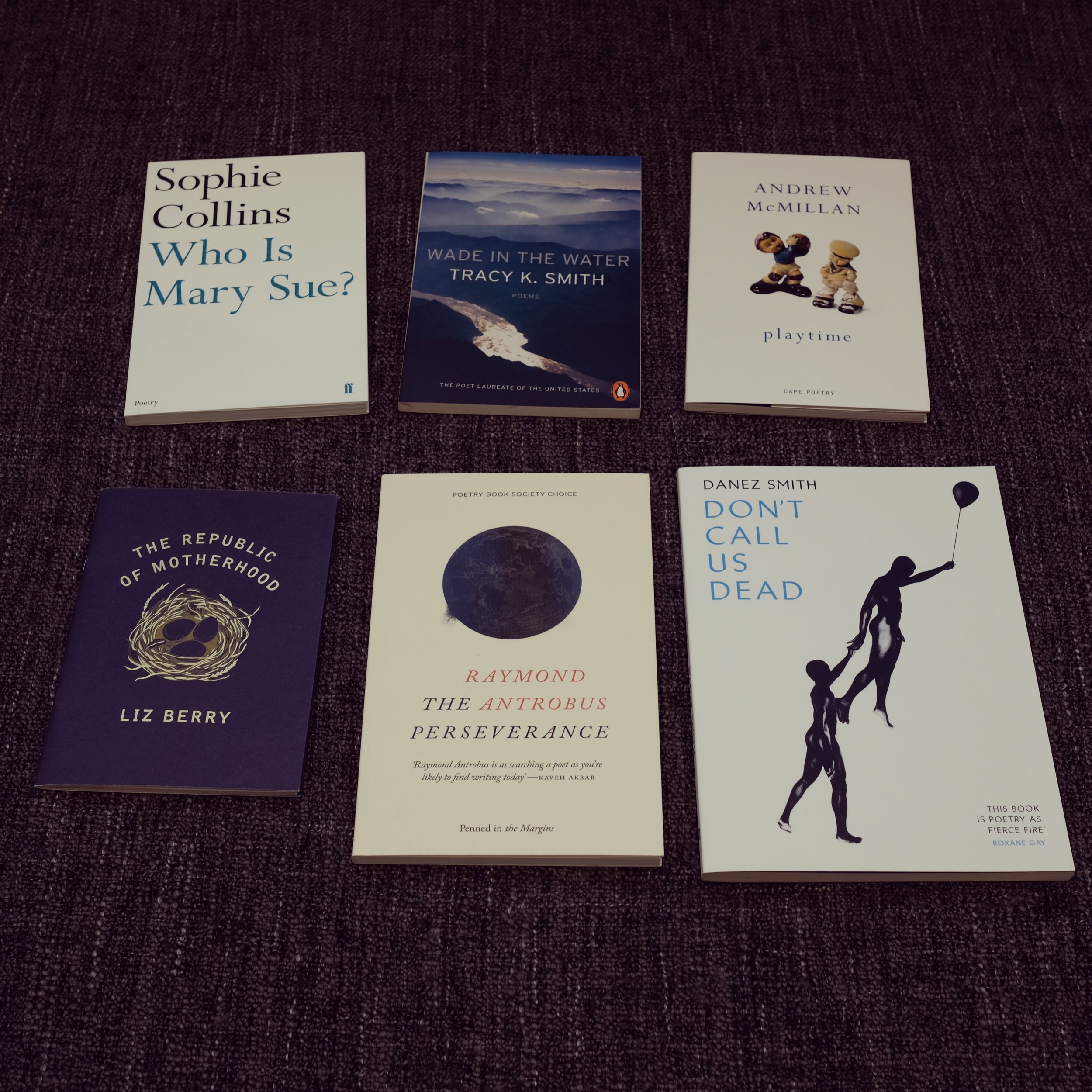 Top 10 Prose Books of 2018
1. Emilie Pine – Notes To Self (Essays)
2. Daisy Johnson – Everything Under
3. Lauren Groff – Florida
4. Claire L. Evans – Broad Band: The Untold Story of the Women Who Made the Internet
5. Lisa Hanawalt – Coyote Doggirl
6. Sally Rooney – Normal People
7. Olivia Laing – Crudo
8. Jade Sharma – Problems
9. Becky Chambers – Record of a Spaceborn Few
10. Yrsa Daley-Ward – The Terrible
***
I've been vocal enough about my love for Emilie Pine's Notes To Self, which I recently made my "Book of the Year" on -YourShelf-, the book subscription service I run; it's so easily one of the best books I've ever read, brutally introspective and full of unbridled rage, agony and hope. Daisy Johnson's Booker-shortlisted debut novel, Everything Under, is a worthy successor to her short story collection Fen, a mythological retelling of the highest order. Florida, the new collection from Lauren Groff, is an ambivalent love/hate-letter to the state she recently moved to, full of memorable characters and moving turns of plot. With Broad Band, Claire L. Evans, of the incredible American electronic band YACHT, captures a previously unknown history from Ada Lovelace onwards, explicating the subjugation and exclusion of women in the tech/Internet world, and looking forward to a hopeful future where the web is ruled by women, descendants of the women who made it. I've enjoyed a few graphic novels in my time, but none so much as Lisa Hanawalt's Coyote Doggirl, a gutting-then-uplifting tale with characteristic and charming characters and a heroine nonpareil. Sally Rooney's Normal People, much lauded with praise and awards, reads like it was beamed directly out of your head. With Olivia Laing's first novel, Crudo, the agonies of the post-Trump, post-Brexit age are magnified, feverish and angry and insistent, like Normal People and so many other books on this list, on the power of love and its necessity for staying hopeful. In Problems, Jade Sharma takes readers on a wild ride through the ups and mostly downs of an addict constantly hitting new lows and unable, or maybe unwilling, to change. With the third volume in her Wayfarers series, Record of a Spaceborn Few, Becky Chambers' distinct brand of progressive, socially-inclusive sci-fi is brought to new depths of social commentary and emotional impact. Finally, in The Terrible, Yrsa Daley-Ward combines her unique poetry with memoir, to tell the incredible story of her life, relating it constantly back to her art.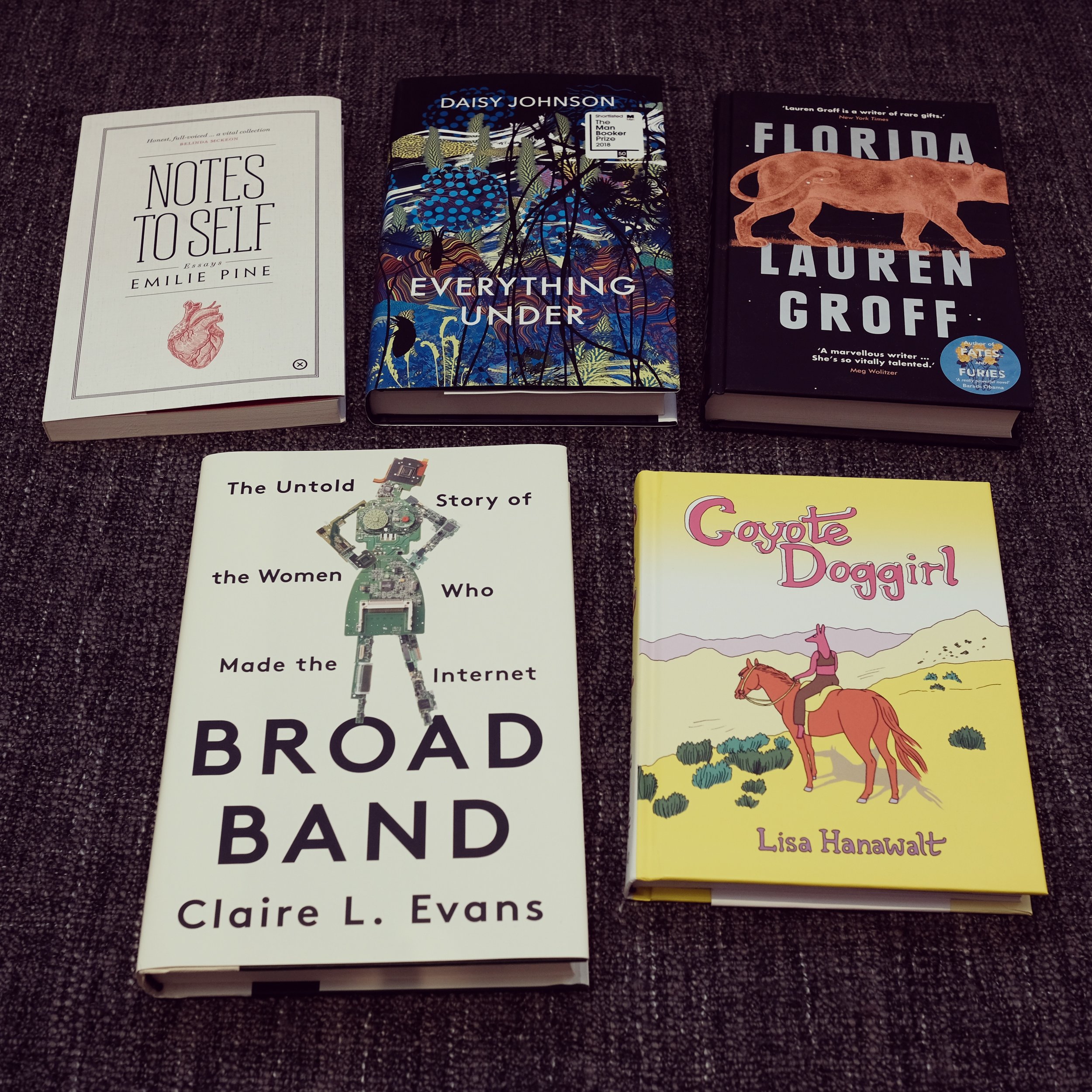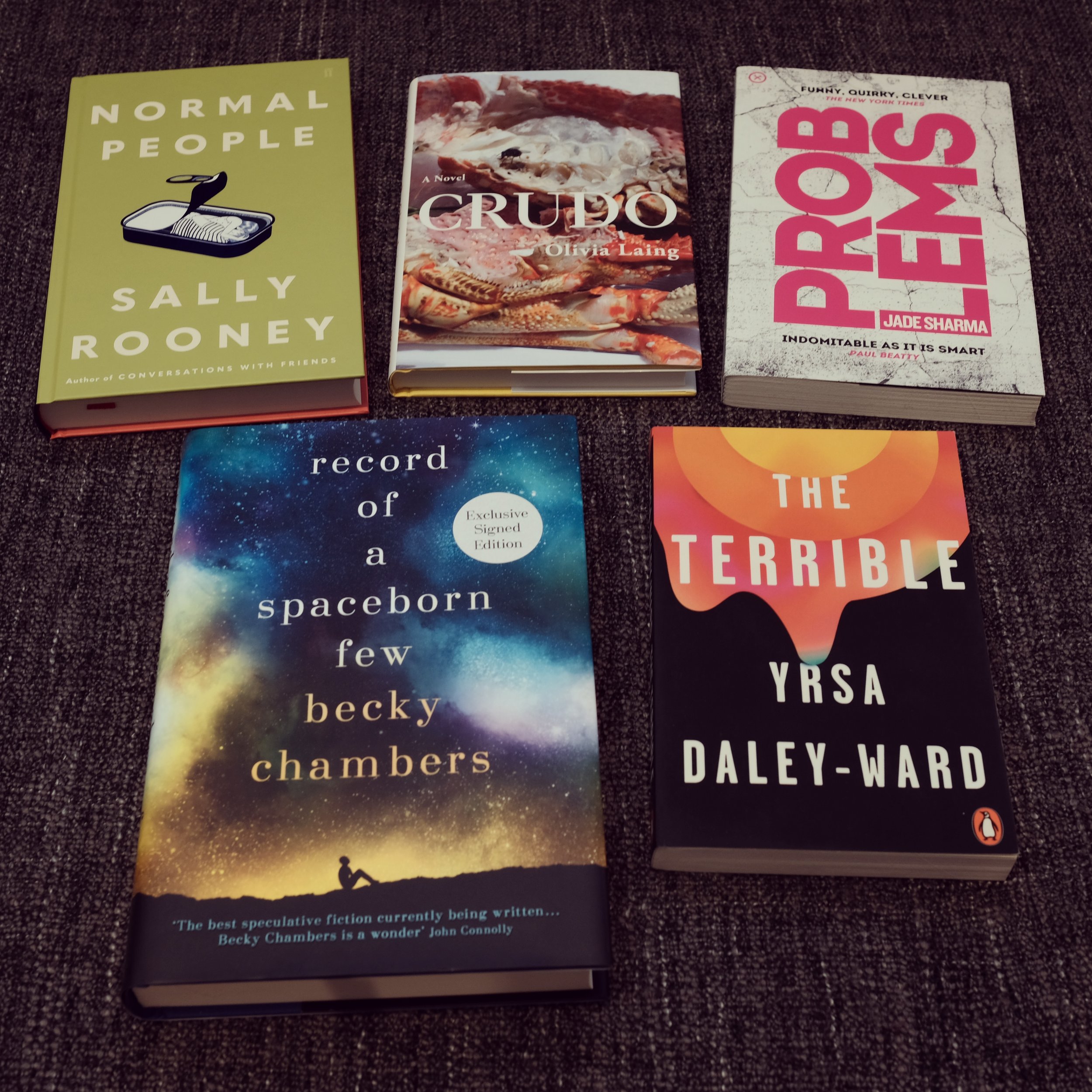 Top 10 Albums of 2018
1. Florence and the Machine – High As Hope
2. TuneYards – I can feel you creep into my private life
3. Poliça and s t a r g a z e – Music For The Long Emergency
4. Janelle Monáe – Dirty Computer
5. Chris Garneau – Yours
6. Courtney Barnett – Tell Me How You Really Feel
7. Christine and the Queens – Chris
8. John Grant – Love Is Magic
9. Ex:Re – Ex:Re
10. Mitski – Be The Cowboy
***
Florence and the Machine's new album High As Hope, perhaps predictably, has been on constant rotation in my life, personal and political and more daring than ever. With I can feel you creep into my private life, TuneYards take their whacky brand of alt-pop to new places, exciting and unusual and catchy as hell. The new collaborative album from Poliça and s t a r g a z e, Music For The Long Emergency, is a sprawling, chaotic marvel trying to make sense of the chaos of our times, while Dirty Computer from Janelle Monáe does something similar through the medium of infectious hip-hop/R&B/soul/rap/pop hybrid excellence. Chris Garneau's Yours is a monumental achievement, experimental at times, deep at others, full of longing and agony and gay wonder. In Tell Me How You Really Feel, Courtney Barnett continues her trend of conversational tunes, more direct and angry than ever, a clear response to the terrible times we find ourselves in. Christine and the Queens creates surreally stunning pop in Chris, playing with gender and identity, repositioning desire, all with a retro, 80s-inspired flare. Speaking of flare, Love Is Magic is John Grant's most flare-exemplifying album to date. Ex:Re, a new solo project from the lead-singer of the band Daughter, is the deeply emotional mosaic one would expect. And, from Mitski, Be The Cowboy, a varied and unusual beauty from a damn legend.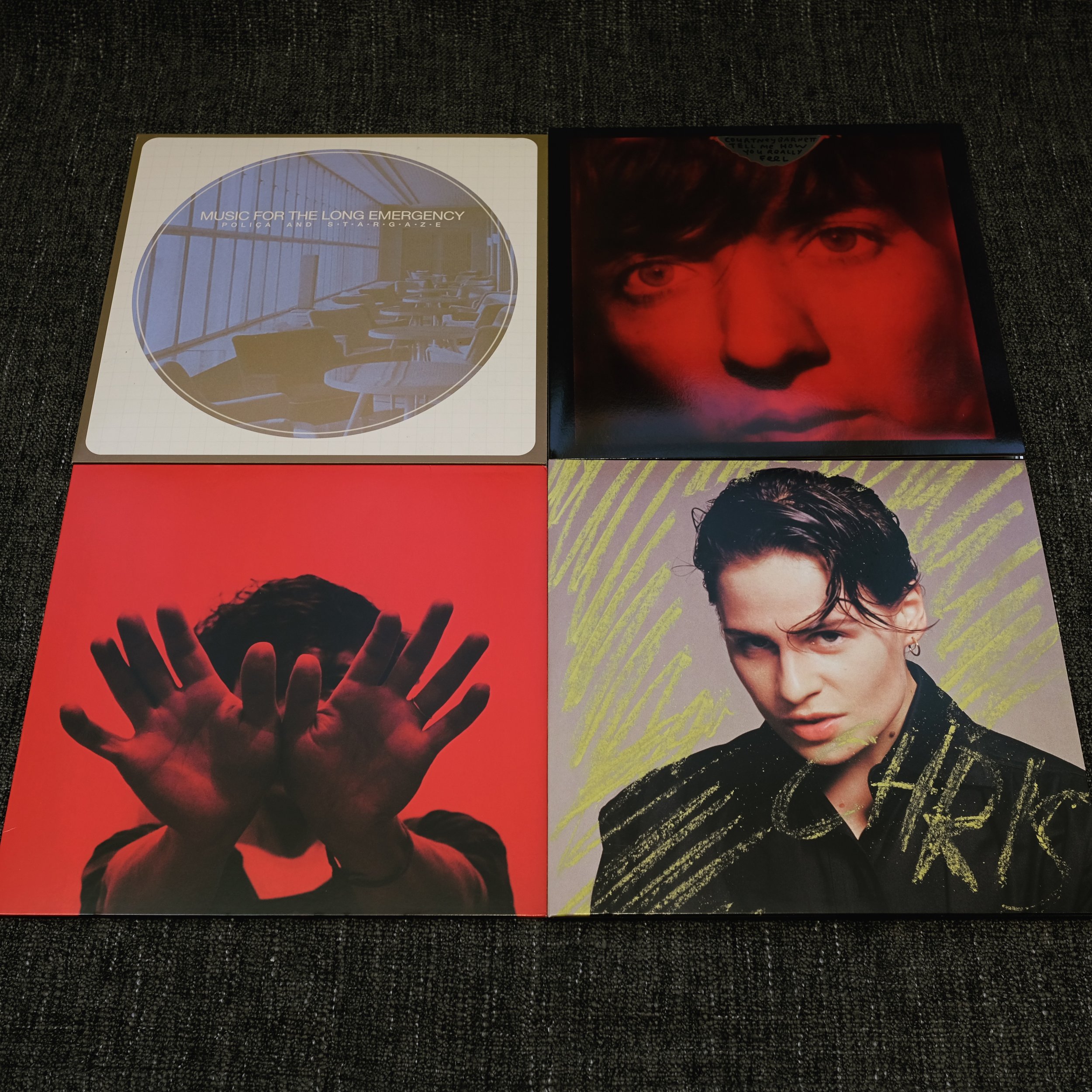 Top 10 Concerts of 2018
1. Florence and the Machine (High As Hope Tour)
2. Lady Gaga (Joanne Tour)
3. Nick Cave and the Bad Seeds (All Points East Festival)
4. David Byrne (American Utopia Tour)
5. Christine and the Queens (Chris Tour)
6. Poliça (on their own, and with s t a r g a z e)
7. St Vincent (An Intimate Evening, and All Points East Festival))
8. Courtney Barnett (All Points East Festival)
9. Lorde (All Points East Festival)
10. Patti Smith (All Points East Festival)
/ Lykke Li (All Points East Festival)
Florence tops yet another list, probably helped by the seven separate occasions on which I saw her and the band perform live this year (oops), with her magnetic and majestic stage presence and her impeccable band. Lady Gaga, an eternal favourite, wowed with her postponed Joanne tour, cancelled just days after I saw her in January. Nick Cave and the Bad Seeds converted me from casual fan to devotee at his All Points East show in June with his commanding presence and musical grandeur; ditto for David Byrne, who impressed me so much in June that I returned to see him again in November, one of the most spectacular and innovated live shows I've ever seen. Christine and the Queens' live-show goes from strength-to-strength, the kind of high-culture gig-theatre that I live for. Poliça, both on their own and in a collaborative live-show with s t a r g a z e, electrify the room with seemingly no effort. Between her electro-marvel show at All Points East and her intimate evening with only a pianist at Cadogan Hall, St Vincent moves and amazes and never once lets her audience catch their breath. All Points East commands the rest of the list, from Courtney Barnett's furiously brilliant live performance, to Lorde's euphoric dancing rave-show, and in a tie, Patti Smith's literary and classic touch with Lykke Li's super sad, super sexy, leather-wearing genius excellence.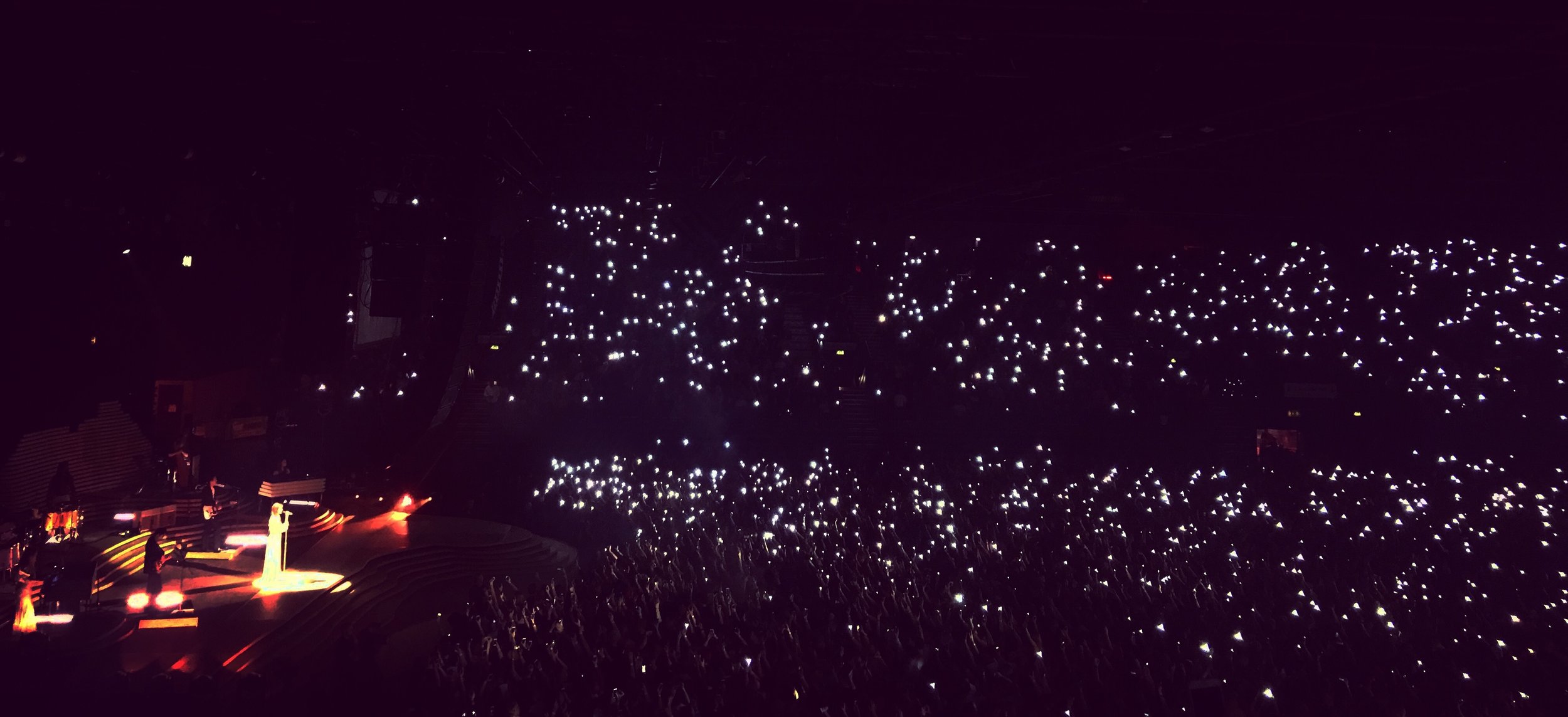 Complete 2018 Reading List (in chronological order)
1. Anne Carson – Nox
2. Barney Norris – Turning For Home
3. Joe Lycett – Parsnips, Buttered
4. Emma Glass – Peach
5. Ishion Hutchinson – House of Lords and Commons
6. Lara Williams – A Selfie As Big As The Ritz
7. Hannah Sullivan – Three Poems
8. Caroline Bird – In These Days of Prohibition
9. Danez Smith – Don't Call Us Dead
10. Lauren Haldemann – Instead Of Dying
11. Anne Carson – Autobiography of Red
12. Sophie Collins – Who Is Mary Sue?
13. Kaveh Akbar – Calling A Wolf A Wolf
14. Daisy Johnson – Everything Under
15. Claire L. Evans – Broad Band: The Untold Story of the Women Who Made the Internet
16. Toby Martinez de las Rivas – Black Sun
17. Emily Hasler – Natural Histories
18. Greta Bellamacina – Selected Poems 2015-2017
19. Anne Carson – Float
20. Tracy K. Smith – Wade In The Water
21. Sean O'Brien – Europa
22. Richard Scott – Soho
23. James Brookes – Spoils
24. Lauren Groff – Florida
25. Yrsa Daley-Ward – The Terrible
26. Hera Lindsay Bird – Pamper Me To Hell And Back
27. Maya Catherine Popa – You Always Wished The Animals Would Leave
28. Olivia Laing – Crudo
29. Florence Welch – Useless Magic
30. Becky Chambers – Record of a Spaceborn Few
31. Kathryn Maris – The House With Only an Attic and a Basement
32. Leontia Flynn – The Radio
33. Nikita Gill – Wild Embers
34. Claudia Rankine – Citizen: An American Lyric
35. Terrance Hayes – American Sonnets for My Past and Future Assassin
36. Jericho Brown – The New Testament
37. Andrew McMillan – playtime
38. Emilie Pine – Notes To Self (Essays)
39. Jade Sharma – Problems
40. Charly Cox – She Must Be Mad
41. AK Blakemore – Fondue
42. Nick Drnaso – Sabrina
43. Sally Rooney – Normal People
44. RJ Arkhipov – Visceral: The Poetry of Blood
45. Lisa Hanawalt – Coyote Doggirl
46. Kate Tempest – Running Upon The Wires
47. David Lynch and Kristine McKenna – Room To Dream
48. JR Carpenter – An Ocean Of Static
49. Rowan Evans, Geoffrey Hill, Toby Martinez de las Rivas – Modern Poets Seven: These Hard and Shining Things
50. Raymond Antrobus – The Perseverance
51. Elif Batuman – The Idiot
52. Joe Dunthorne – The Adulterants
53. Channy Leaneagh – I Will Only Yell
54. Stephen King – Elevation
55. Toby Campion – Through Your Blood
56. Sally Rooney – Conversations With Friends
57. Kate Bush – How To Be Invisible
58. Lavinia Greenlaw – The Importance of Music to Girls
59. Liz Berry – The Republic of Motherhood
60. Sally Rooney – Mr Salary
61. Nick Cave – The Sick Bag Song
62. Anne Carson – Red Doc >
63. Maggie Nelson – Shiner
64. Maggie Nelson – The Latest Winter
Complete 2018 Theatre List (in chronological order)
The Twilight Zone (Almeida), Twelfth Night (RSC), Julius Caesar (Bridge), The Divide (Old Vic), The Duchess of Malfi (RSC), Mouthpiece (Sheffield), Red/Wolf (VAULT Festival), Girls & Boys (Royal Court), Not I (Touretteshero), Macbeth (RSC), Macbeth (National), Prom Kween (Harlow Playhouse; later in Bristol), Coraline (Royal Opera House / Barbican), The Great Wave (National Theatre), Périclès, Prince de Tyr (Cheek By Jowl), Romeo and Juliet (RSC), Nightfall (Bridge), Pale Sister (Hay Festival), The Fantastic Follies of Mrs Rich (RSC), Translations (National Theatre), Mood Music (Old Vic), Brontë (Loft), #WeAreArrested and Day of the Living (RSC, The Other Place), Working (Royal Academy of Music), My Name Is Lucy Barton (Bridge), Killer Joe (Trafalgar Studios), Miss Littlewood (RSC), Othello (Shakespeare's Globe), Ian McKellen (Duke of York's, King Lear cancellation), Fun Home (Young Vic), Consent (National Theatre / Harold Pinter Theatre), Pity (Royal Court), Aristocrats (Donmar), A Monster Calls (Old Vic), The Merry Wives of Windsor (RSC), Tamburlaine (RSC), Julie (National Theatre), Little Shop of Horrors (Regent's Park Open Air Theatre), Exit The King (National Theatre), Six (Arts Theatre), Tartuffe (RSC), Sylvia (Old Vic), Allelujah! (Bridge), The Prisoner (National Theatre), Dust (Trafalgar Studios), 17c (Old Vic), Maydays (RSC, The Other Place), Bismillah! (Wound Up Theatre), Dance Nation (Almeida), Wise Children (Old VIc), King Lear (Duke of York's), Antony and Cleopatra (National Theatre), Measure for Measure (Donmar), Troilus and Cressida (RSC), The Woods (Royal Court), Trying It On (RSC, The Other Place), The Wild Duck (Almeida), Henry V (Antic Disposition), Company (Gielgud Theatre), Timon of Athens (RSC)